Windows 10 Build 10041 Upgrade Failures
[Updated:  After enabling Client Hyper-V on 10041 the machine blue screens on boot up!]
[Update 2: After much trial an error I have narrowed my upgrade problem to Hyper-V.  If that is enabled on 9926 then the upgrade to 10041 fails for me.  So what ever changed with Hyper-V between 9926 and 10041 is the root of the problem.]
I have had quite a difficult time moving from Windows 10 Build 9926 to Build 10041. Prior build updates didn't give me this much grief.
My system was a pretty simple setup. Hardware-wise it's an older AMD A8 with 24GB of memory. I have a single 120GB SSD as the boot drive, a pair of 240GB SSDs in a Storage Spaces pool and a single 1TB HDD. On the software side it's just Windows 10 (9926), Office 2013 and Client Hyper-V.
I had my machine in the Fast Ring so back on 18 March I ran the upgrade to 10041 and it failed.
Video Driver Problem?
Some searching lead to people getting this error when upgrading from Windows 8 to 8.1 and it being caused by Nvidia video card drivers. I do have an Nvidia video card, but it was using the built-in driver from build 9926. But I thought I would give it a shot and upgrade the drivers to the latest direct from Nvidia.
No luck. Still failed with the same error.
Moving to Slow Ring
I rebuilt my system with 9926 and switched to the Slow Ring. I wanted to buy some time to see about finding anything on the errors before attempting to upgrade again.
This time I only had Client Hyper-V and the Storage Spaces pool. I was focused on spinning up some VMs to test the upgrade.
Then on 25 March Build 10041 went out to the Slow Ring and my system ran the upgrade.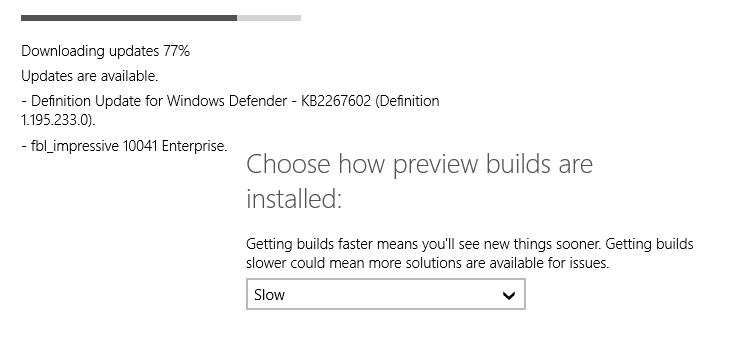 And failed with the exact same error.
Starting All Over
At this point I thought I would start over with a clean slate. So I rebuilt my system with 9926. This time I didn't install Office and Hyper-V, nor did I configure the Storage Spaces. So all I had was a basic install of 9926 and nothing else.
The time the upgrade worked.
So, what was the culprit?
I don't know. Client Hyper-V? Storage Spaces? I honestly could not say. I may try to rebuild back with 9926 and try the upgrade with one or the other.  Maybe I can narrow it down to a single thing that did me in.
Regardless, it doesn't bode well if a Windows upgrade could not handle features that are native to Windows.